Have you considered straightening your teeth as an adult but can't imagine wearing brackets and wires?  Well, Invisalign may be just the thing for you.  Invisalign has created the world's most advanced clear orthodontic system, which gradually moves your teeth throughout a series of trays referred to as aligners.  Aligners are worn 20-22 hours per day, removing them only when eating and drinking (unless you're drinking water) or brushing and flossing.  Aligners are designed uniquely for each person to put the right amount of pressure on specific teeth at just the right time, which ultimately creates the perfect smile.  The main difference between aligners and other brands is the way the trays are made.  Invisalign has designed their aligners to fit the contour of your gumline, which eliminates gum irritation caused by other brands.  The aligners also allow for a more esthetic look, as opposed to looking bulky at the gumline.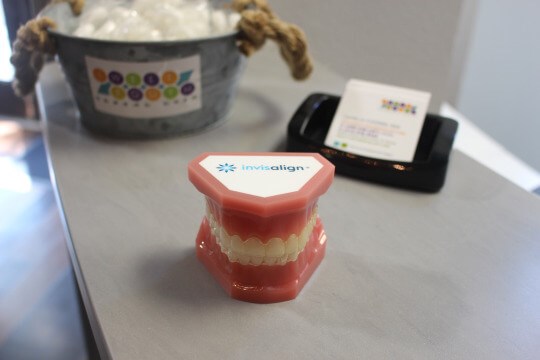 Invisalign treatment with a general dentist typically consists of wearing the aligners for two weeks at a time, then moving to the next aligner that has been custom made to shift your teeth into the next optimal position.  Pretty easy right?  The advantage of clear aligners versus traditional brackets and wires include ease of cleaning your teeth, and most of all…they're practically invisible!  Having worn both traditional braces and Invisalign in my lifetime, I enjoyed not getting food stuck around brackets and wires with Invisalign.  Ready to start creating that perfect smile?  Give us a call to schedule your Invisalign consultation at 469-617-5638.
Tip: Mention this blog to receive complimentary Zoom! Whitening with your Invisalign treatment!